Uncategorized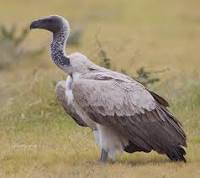 African-white-Backed Vulture (Gyps africanus)
By Martina Kwenda
Surprisingly Vultures are the most threatened species in
Birdland and that's a sad story. Today, just two of the 16 species of "Old
World" Vultures remain off the Endangered list, while eight are classified as
Critically Endangered and are at risk of imminent extinction; three are
Endangered; and three Near Threatened. The African White Bird Vulture of the
"Old World" is one of those and it is actually labelled Critically Endangered population
was 270 000 individuals according the animalia website but they are declining.
The White-backed vulture is a medium size bird with a brown
to cream colour in its adult form, with juveniles darker. It has dark tailed
feathers with a white rump patch and ruff. Their bills have a pale outer half
and show little contrast between underwing-coverts and flight feathers when
viewed from below. (Birdlife International,2016)
The White-backed vultures are endemic in Africa and are
found open wooded savanna and scattered trees, such as areas populated by
Acacia and Mopane trees (Biodiversity Explorer, ND). They are mainly a lowland
species but do however require tall trees for nesting and are often found
nesting on electricity pylons in South Africa (Birdlife International, 2016).
That's why electrocution is labelled as one of the main reasons its threatened.
They nest in loose colonies.
According to the National Geographic in sub-Saharan Africa
the vultures have declined by 90 % due to habitat loss, fewer food sources,
drowning in farm reservoirs and hunting for use in traditional use. They are
believed to represent death superstitiously so they get persecuted a lot. The most common threat is poisoning as frustrated
livestock owners use toxic pesticides for lions and hyena, and other predators and
the scavenger is hit in the process.
Shockingly in some areas their population is stable with
short term increases in countries like Ethiopia, Tanzania and Uganda. However,
across Southern Africa it is estimated that 40,000 individuals remain.
This scavenger only
feeds on carrion-dead carcasses of dead animals and the trick is in eating the
flesh before the animal's rots to avoid dangerous bacteria and viruses from
growing on decomposing camasses. lts stomach acids also neutralize pathogens,
which limits the risk of spreading disease to humans and other animals so we
clearly need this bird for health reasons.
So far there has been a lot of awareness campaigns on
protecting the species as they have a vital role to our ecosystem. Bird Life International
was created for that purpose and in March 2015 a Vulture
Conservation Action Plan was created.
This is good but more action is needed because if we are not careful all vultures
will become extinct and imagine the diseases that could come about.
Visit our website www.thegreenpromise.org or / info@thegreenpromise.org
References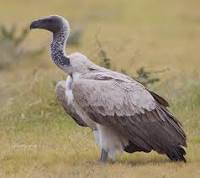 http://www.biodiversityexplorer.org/birds/accipitridae/gyps_africanus.htm
http://dx.doi.org/10.2305/IUCN.UK.2016-3.RLTS.T22695189A93495033.en